Extremis
by HAL
performed HAL (with Gillian Anderson)
/MPG/

(Spoken, male voice)
The city shimmers above me
In a thousand points of light
And above it in the stars,
countless in numbers
But some kind of illion maybe

(Spoken, Gillian's voice)
Atom by atom molecular beings
Transport me away
to the place of my dreams
A point in space where time is still
Colliding worlds in limbo until

extremis
The melting of minds
a cerebral mesh
A union of liquid and virtual flesh

Automatan love, your caresses pneumatic
I'm a slave to your touch,
my response automatic
The circuits burn out
and the paradigms shift
Desolation...my emotions drift

Clarity fades and my faculties haze
Deep down traumas hound me for days
extremis

Your reasons are noble
A quintessence of lust
In the arms of angels
My dreams turns to dust

extremis
extremis

I...don't want to hear about the future
I want to see it
I want to feel it
I want to taste it

(Spoken, male voice)
There's a tendency to believe
that the darkness brings about
the fear in one,
But I've really found peace
in the darkness
The trouble begins in the light
when you come around Man
(Spoken, Gillian's voice)
extremis

added January 2000 from here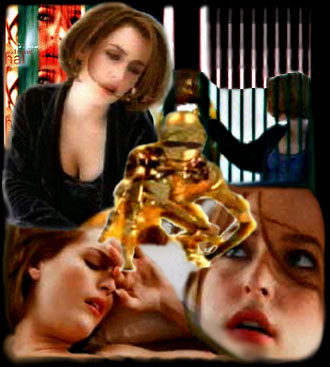 Scully gets it on ! Phew! And you thought Gillian Anderson, star of the the blockbusting x-Files, never got laid.
Well get ready for the new improved, sultry, sexy (then again she's always been) queen of the 'something's-out-there-maybe'. X-Files afficionados will remember that the closest Scully's come to the old hip tango was an episode where she dated a guy who turned out to be killing people because of an insanely jealous tattoo on his bod. In that episode Scully slept over in the guy's apartment, meandered round the next morning in his white shirt but whether she let him have his wicked ways is left unanswered.
With that in mind, THE iZINE sat down this week to watch the video for "Extremis" the new single by Anderson and European dance outfit Hal. Coming on like a dirty phone call over a slip sliding trippy little beat that sounds kind of part Enigma, part Ruby, part Madonna, Anderson breathes, "A melting of minds, a cerebral mesh, a union of liquid and virtual flesh / Automaton love, your caress is pneumatic, I'm a slave to your touch, my response automatic." Yep, that got us in there.
Plucked from the forthcoming double CD compilation "Future: A Journey Through The Electronic Underground", the collaboration is the direct result of Anderson's work on the BBC TV series "Future Fantastic" which she narrated and Hal provided the theme song. So taken was our Gillian by the music -"There was something very different about it, very unique, very sexy about it, and it reminded me actually of that song that plays in Basic Instinct when Sharon Stone is dancing with the woman (Stone's lesbian lover) in that bar." - that she suggested a collaboration and Hal wrote some lyrics for her to speak and got her to record them at Mushroom Studios in Vancouver, where the The X-Files is shot. Anderson also chose the tracks for the compilation which features acts such as The Future Sound Of London and Massive Attack. Good taste, huh!. Not surprising really as Anderson's favoured music as a teenager was the legendary and savagely brilliant Skinny Puppy, and US punk legends Circle Jerks and Dead Kennedys (who could forget "Too Drunk To F@#$" and "Holiday In Cambodia").
Of "Extremis", Anderson says, "This is just something that kind of fell into place in a wonderful and fun and creative way." And , let's be honest, it's hot, right up there in the let's get it on, soft core sensuality zone ... In the video Anderson, all red lipstick, blue lace, floor-length dress and black high heels (what is it about high heels?), prowls a dream-like set and gets all sexed up as she watches two entwined naked robots. Circling them, she touches their bodies, kisses one, and later writhes under the covers of a bed in her own private fantasy (delicately worded, that) until the male robot eventually approaches. Breathlessly she oozes, "I don't want to hear about the future. I want to see it. I want to feel it. I want to taste it." Gillian, a significant proportion of the entire staff of THE iZINE is now at your disposal. Just call. - MIKE GEE
added January 2000